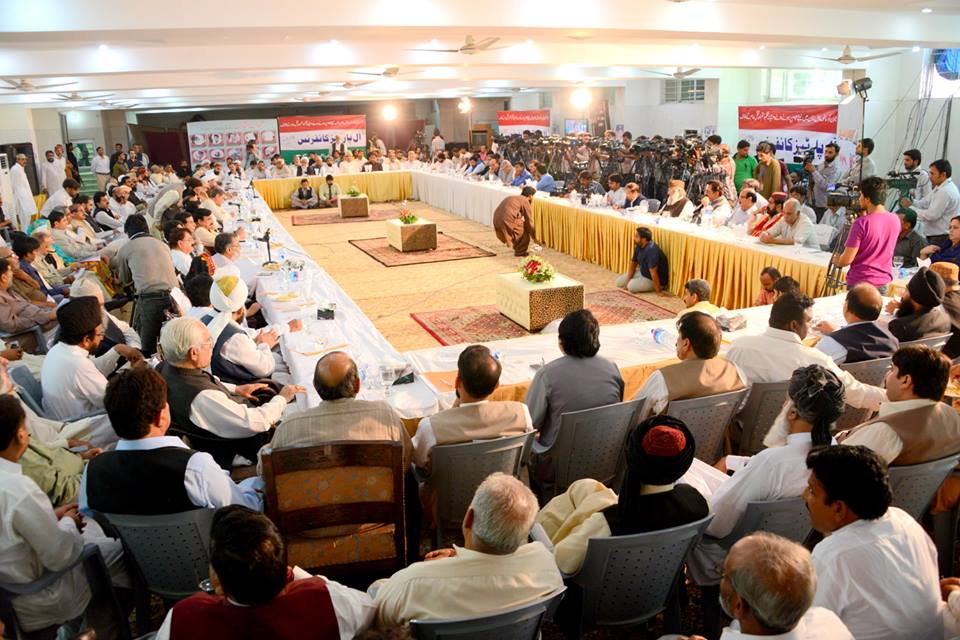 The following is the text of joint declaration adopted by All Parties Conference that was held here at the central secretariat of Pakistan Awmai Thereek on June 29 to discuss state terrorism and savagery in Model Town on June 17.
The police attack that took place at the residence of Dr Tahir-ul-Qadri and secretariat of Minhaj-ul-Quran International in Lahore on June 17 represents the worst ever example of state terrorism, savagery, violence and barbarism in which live bullets were fired at innocent and unarmed citizens, the unarmed women were killed by firing of live bullets for the first time in the history of Pakistan and the Holy Quran was desecrated. The Model Town tragedy is condemned in the strongest possible words. Protection of people's lives and property, right to peaceful protest and freedom of expression are fundamental requirements of real democracy. The perpetration of violence and savagery on the unarmed citizens is an act which tantamounts to breaching Islamic, democratic, constitutional, legal and international values. Federal and Provincial Governments, police and administration are warned that no action of this kind can be tolerated at all and those responsible for it have no right to stay on in power anymore.
 
Baseless and fake FIR against the oppressed affectees of terrorism lodged by police that is itself involved in bloodshed in Model Town tragedy and all other FIRs registered against the men and women who took part in peaceful demonstrations in different cities to protest the incident are wholly rejected. It is pertinent to mention here that staging peaceful demonstrations is fundamental right of the citizens according to Article 16 of the Constitution. Therefore, it is forcefully demanded that all these baseless cases should immediately be withdrawn. It is further demanded that FIR should be registered immediately on the basis of application lodged by Minhaj-ul-Quran International with the Faisal Town Police Station. Ten days have elapsed since the application was lodged but no FIR has been registered so far.
 
Scenes of state terrorism and killing were captured live by national television channels and continued to be broadcast in which live bullets were fired at unarmed citizens. The Chief Minister of Punjab is the one who is actually responsible for this terrorism and massacre. Impartial and transparent investigation and submission of evidence is not possible as long as the Chief Minister continues to stay on in power nor is it possible to fulfill the requirements of justice. Therefore, the Chief Minister Punjab and all those Ministers involved in this incident should tender their resignations and hand themselves over to law. If the Chief Minister chooses not to resign, the President, being constitutional head of the state, should play his role to make him step down from his office.
 
All administrative and police officials who are involved in the Model Town tragedy such as Home Secretary, Inspector General of Police, DIG Operations, CCPO, SSP, DCO, SP Model Town, DSPs, and SHOs of relevant police stations should be suspended immediately and apprehended on charges of terrorism, and mass-killings.
 
A 3-member powerful Judicial Commission consisting of such undisputed, impartial Supreme Court Judges who have good reputation and enjoy the confidence of the affectees should be set up. The Commission should be empowered to summon any administrative official and political office holder including the Prime Minister, nominated Federal Ministers, and Chief Minister Punjab etc. Moreover, inquiry committee consisting of top officers of investigative agencies who enjoy good repute and in whom the victim repose their confidence should be established to probe the Model Town tragedy.
Click to enlarge view