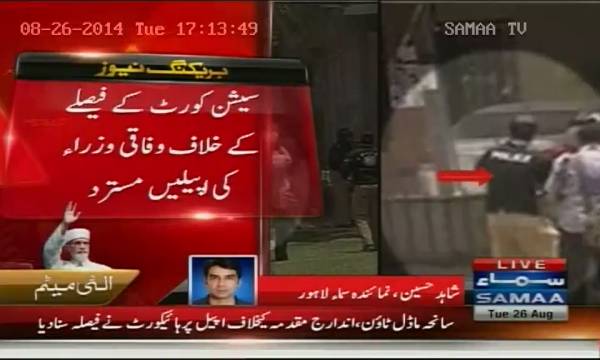 LAHORE: The Lahore High Court (LHC) has upheld the order of a lower court regarding registration of an FIR against prime minister, Punjab chief minister and other federal and provincial ministers on a complaint of Minhajul Quran in Model Town shooting case.
The sessions court in Lahore had issued a verdict on the petition filed by MuQ, ordering the provincial government to have the case registered on the complaint of Minhajul Quran against 21 persons.
The federal ministers, Pervaiz Rashid and Khawa Asif, filed appealed in the LHC challenging the sessions court verdict.
Upholding the order of sessions court, the LHC dismissed the petition.
Talking to media, Mansoor Afridi, counsel of Minhajul Quran, said that the truth would prevail and case would be registered over Model Town tragedy.
Dismissal of the government's petition has proved that the courts are dispensing justice independently, he said.
The government, if wants, can challenge the verdict in the Supreme Court, Afridi added. -Samaa
Source: http://www.samaa.tv/pakistan/26-Aug-2014/model-town-tragedy-lhc-rejects-federal-ministers-plea