Says government lacks economic vision. Its economic policy is confined to selling off state assets and seeking new loans.
Says Nawaz Sharif sold off 62 state-owned enterprises for paltry sum of money during his previous stints in 1990s.
Terms privatization commission partisan manned by PML-N activists and cronies.
Says the PM threw the apex court order to wind by issuing an office order
Addresses members of Pakistani community in Houston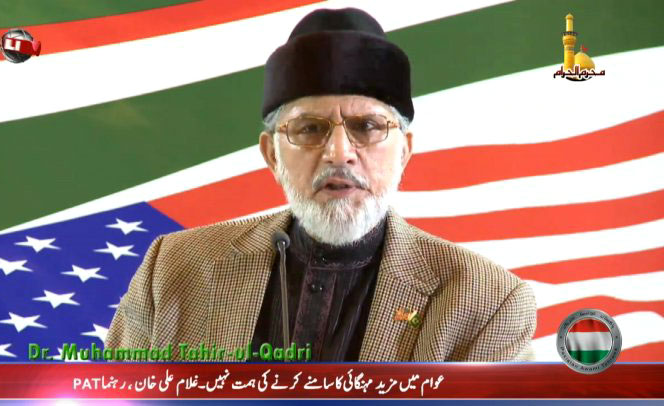 Addressing a convention of Pakistani community in Houston on November 09, PAT chief Dr Muhammad Tahir-ul-Qadri has said that it was not Al-Qaeda or Taliban but the official machinery of the government, which was involved in shedding blood of innocent PAT workers and civilians in Model Town on June 17. Questioning the rationale of the government's privatization policy, he said that selling off the state-owned enterprises in return for some quick bucks is no economic management to run a country. He said that Privatization Commission is composed of PML-N workers, crones and loyalists, adding that no such concept exists in any democratic country in the world.
Dr Tahir-ul-Qadri said that it has been a Standard Operating Procedure (SOP) of the PML-N government that the first thing they would do on assuming power is to put a 'for sale' tag on the public sector enterprises. He said that Nawaz Sharif sold off about 62 state-owned entities in his first two tenures, adding now the list of 38 more enterprises has been finalized for privatization. He said that the Prime Minister has superseded the order of the apex court through an office order in this respect. He further said that a country where corruption and plunder is rampant and close family dynasty ruling the roost, why will anyone come to invest his capital there?
Dr Qadri said that news of his arrival in Pakistan has disturbed the sleep of the rulers. He said that the masses were annoyed with the government due to its anti-people policies. He said that he is fighting for making Pakistan a country of the poor and middle classes. He said that PAT' sit-in, which ran for continuously 70 days, has generated massive awareness among people about their constitutional rights and given them courage to protest injustice, and discrimination. He said that PAT has prepared a comprehensive plan of action to hold public rallies and sit-ins throughout the country. He said that reorganization of PAT chapters has been launched at grass-roots, adding that PAT's political role was revived to eliminate system of oppression from the country.
Thanking the members of Pakistani community for their attendance of the Convention in Houston after New York, the PAT Chairman said that the country is being sold off in the garb of privatization. He said that Parliament is full of people with questionable conduct including tax evaders and loan defaulters, adding otherwise the government could not even dare to plan a sell-out of the state-owned entities without taking Parliament on-board and seeking its approval. He said that privatization is a normal process which takes place around world but then the government commissions there are not manned by family members, party loyalists and cronies. He said that the PML-N sold off about 40 national assets among friends for paltry sums of money in their first stint in office from 1991-1993, whereas they sold about 12 public sector entities in their second tenure from 1997-1999 and now 38 enterprises have been put on the sell-out list.
Dr Tahir-ul-Qadri said that the Supreme Court ordered the present government to constitute a high-powered commission to preside over the privatization of 58 public sector enterprises but the Prime Minister threw this order of the apex court to wind by issuing an office order. He asked whether it is rule of law and majesty of democracy. He said that if we raise our voice against such instances of manifest disregard for law, we are booked for various trumped-up charges and victimized by the government at the same time. He said that situation has deteriorated to such an extent that power and gas tariffs are increased and institutions of national security are privatized in order to get a small installment of loan from IMF. He said that the rulers do not have any economic vision except to sell off state assets and seek international loans.
Dr Qadri said that our workers have been arrested, intimidated and tortured for raising their voice against the government's economic and political crimes but added in the same breath that they are not ready to be browbeaten into silence. He said that Article 25 of the Constitution endows status of equality on all citizens irrespective of any discrimination whereas Article 38 guarantees protection of life, honor and property of every citizen. He said that the ruling class has different set of laws and Constitution for themselves. He said that he is of the considered opinion that the country needs a new social contract because violation of fundamental rights is being committed in the presence of present Constitution and there is no one to hold the powerful accountable for their acts of commission and omission.
Dr Tahir-ul-Qadri said that the rulers who are accustomed to a high life in palaces do not even consider people of Thar and Cholistan as human beings, adding that these rulers are in fact killers of those who die of hunger. He asked, did the Quaid-e-Azam make Pakistan for the looters, robbers, and killers?
Speaking on the importance of Iqbal Day, Dr Tahir-ul-Qadri said in his special message that the youth is a special topic of poetic works of Allama Iqbal. He asked the youth and students to dedicate themselves to acquiring modern education so that they could play their role in national development. He said that the PAT government would include 'Iqbalyat' as a special subject in national curricula at every level.
The convention was attended by members of the Pakistani community in large number.