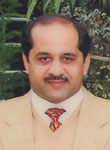 Pakistan's newly appointed ambassador/permanent representative to World Trade Organisation (WTO), Dr Tauqir Shah reportedly spent a few moments in detention at Geneva airport due to a misunderstanding between the Swiss security officials and staff of Pakistan's permanent representative office in Geneva, well informed sources told Business Recorder.
Secretary Commerce, Shahzad Arbab initially opposed appointment of Dr Tauqir Shah as Pakistan representative to WTO in the aftermath of accusations against Shah in the Model Town tragedy. However, he later withdrew his objections fearing the impact of his opposition on his career prospects as Chief Minister Punjab was supporting Mr. Shah's appointment in Geneva.
Dr Tauqer Shah reached Geneva a few days ago to represent Pakistan at WTO forum in the position of permanent representative to WTO.
According to sources the staff of Pakistan's permanent representative/ambassador to WTO had sought permission to receive Dr Tauqir Shah near the aircraft and, as a courtesy extended to foreign diplomats, bypass customs and immigration but were unable to identify him. When all passengers had deplaned the staff requested assistance from Swiss security officials.
Security officials misunderstood the staff's request and instead detained Dr Tauqir Shah and so informed the staff of Pakistan's permanent representative/ambassador to WTO. The Pakistani staff clarified to Swiss security authorities that they misunderstood the message, adding that they had requested the ambassador be identified and not detained.
Another interesting episode of Dr Tauqir Shah's story is that when he assumed charge as permanent representative/ ambassador to WTO the clerk filled out the proforma letter, with Tauqir Shah's signature, which was to relinquish charge instead of assume charge and sent it off to the Commerce Ministry Islamabad.
As the letter was received in the Commerce Ministry, it became a source of ridicule in the entire Ministry. The concerned section reprimanded the WTO staff on the blunder with the remark that since Dr Taquer Shah did not assume charge as permanent representative to WTO then how can he relinquish charge.
Dr Tauqir Shah, former Principal Secretary to the Chief Minister Punjab, Mian Shahbaz Sharif is one of the alleged accused in the Model Town tragedy in which lives were lost due to indiscriminate police firing on the workers of Pakistan Awami Tahreek (PAT) led by Dr Tahirul Qadri.
On 20th of June 2014 as a result of great public pressure, CM Punjab removed Dr Tauqir Shah from the post of his principal secretary.
PAT in a letter to Chairperson, World Trade Organisation had stated that on the 17th of June 2014 the government sent the police to carry out an armed operation at the head office of Minhaj-ul-Quran International (MQI) and the residence of Dr Tahir-ul-Qadri in Lahore, which continued for approximately fifteen hours. Fourteen innocent unarmed civilians including two women, one of whom was pregnant, were killed and more than eighty five people were injured by live firing and unprovoked aggression by the police. This operation is the worst of its kind in any democratic country and a gross violation of basic human rights.
by Mushtaq Ghumman
Source: http://www.brecorder.com/business-a-economy/189/1164012/
Related Video