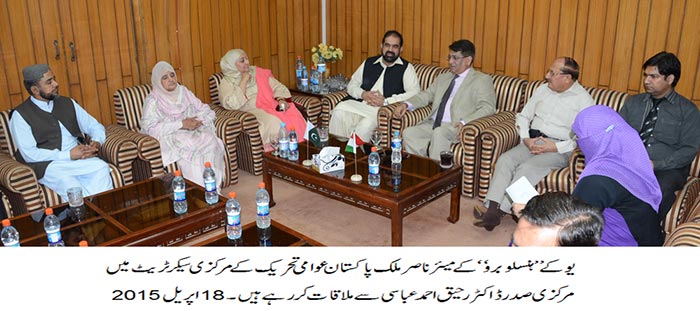 Malik Nasir, Pakistani-origin Mayor of Hounslow Borough area of UK, visited the central secretariat of Pakistan Awami Tehreek and MQI on Saturday along with his wife. Speaking on the occasion, he expressed his astonishment at the fact that the accused of the Model Town tragedy have not been meted out punishment so far. He said that Dr Tahir-ul-Qadri lives in the hearts of Pakistani Diaspora community due to his religious services and his endeavours to project the real face of Islam before the western world. He appreciated MQI's clear and solid stance against terrorism and its struggle for promotion of peace and interfaith harmony. He particularly described the 600-page Fatwa of Dr Qadri against terrorism and suicide bombing as a great service to the humanity.
On their arrival at the central secretariat, central PAT leaders such as Dr Raheeq Ahmad Abbasi, Sheikh Zahid Fayyaz, Rana Idrees, Jawad Hamid, Sajid Bhatti, and Farah Naz warmly welcomed Mayor Malik Nasir and his wife. Dr Raheeq Abbasi briefed the respected guests about the working of various departments of MQI, PAT, Minhaj Welfare Foundation and educational institutions.
Later on, while talking to media, Malik Nasir, Mayor of Hounslow Borough, said that it is a welcome development that local government elections are being conducted in cantonment boards. He said that there is no better and more effective system than the local government system for service of the people at their doorsteps. He said that localized and grassroots issues cannot be resolved while sitting in Islamabad, Lahore, Karachi or Peshawar. He said that it would have been far better had the provincial governments willingly conducted the local bodies elections without being nudged by the Supreme Court.
Malik Nasir said that local government institutions are very strong in the UK and their elections are automatically held on time and no court has to intervene for the conduct of these elections. He said that the people would have to play their role for the establishment of real democracy in the country. He made it clear that fruits of democracy cannot reach the common man without promoting the culture of respect and supremacy of law.
Talking about Model Town tragedy, Mayor Nasir said that the heart-rending incident has defamed the country in the international community. He said that many a finger is being raised on the silence of justice system and failure of relevant institutions to dispense justice after the merciless killing of 14 people in cold blood. He said that in addition to the courts, it is responsibility of the rulers as well that they also mete out justice to the families of martyrs. He said that the job of state institutions is to protect the life and property of the masses, adding that there is little to distinguish between a society and a jungle when those mandated to secure life and property take people's lives for no reason.