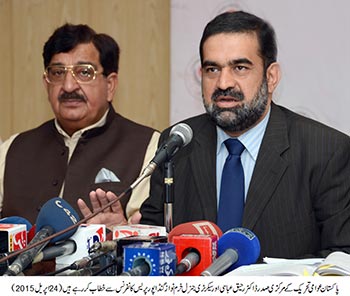 Addressing an emergency press conference along with team of lawyers, PAT President Dr Raheeq Ahmad Abbasi and Secretary General Khurram Nawaz Gandapur have said that if the rulers have no relation with the Model Town incident, then why are they not releasing the report of the judicial commission that probed Model Town tragedy and why are they afraid of constituting neutral and independent Joint Investigation Team (JIT)? They said that the Punjab government is bringing its influence to bear on anti-terrorism courts. The Punjab Chief Minister is directly involved in these vindictive actions and the killer police has become investigator, witness and plaintiff all rolled into one, they added.
The PAT leaders said that one cannot think of justice being massacred in this fashion in any other country. They said that the party has had to knock at the door of the court to get a copy of the report of judicial commission. They said that we have our confidence in the honorable judges of the Lahore High Court and hope that they would deliver justice. They said that it is due to political use of anti-terrorism courts that the people have expressed their no-confidence in these courts and supported the military courts by terming them inevitable for dispensation of justice. They said that the present rulers are the biggest hindrance in the path of dispensation of justice, demanding that the Model Town case should be transferred to the military court and its trial should be held there.
Speaking on the occasion, Khurram Nawaz Gandapur said that the cases of 340 workers in Sargodha, 310 in Gujranwala, 317 in Rawalpindi, and 400 in Bhakhar are being heard by anti-terrorism courts on daily basis. He said that the whole world saw on TV channels that police raided the houses of our workers, ransacked their belongings, tortured and martyred them but registered terrorism cases against them. He said that justice is being killed now, asking as to why the anti-terrorism courts are not able to see the oppression committed by police. He said that those who did not bother to conduct any hearing of terrorism cases for eight years are hearing the cases against our oppressed workers on daily basis and asked what kind of justice is being meted out. He said that the government established a commission to probe rigging charges after consultation with Imran Khan but added in the same breath that no consultation was carried out with us before constituting JIT to investigate the Model Town killings. He said that such JIT and its investigations do not carry any legal or moral status because those who have to get justice have not reposed their confidence in the investigation team.