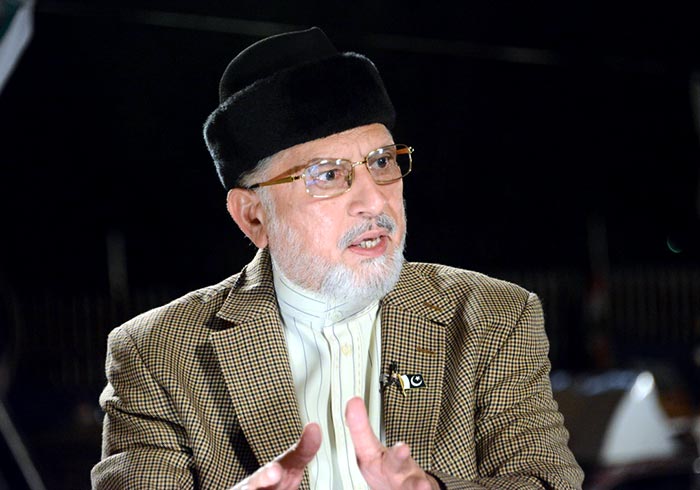 PAT chief Dr Muhammad Tahir-ul-Qadri has said that by inducting the accused nominated in Model Town FIR into the cabinet, the Punjab government has sent out a loud message to the world community that neither does it accept supremacy of the constitution and the majesty of law nor does it have any political or democratic morality. He said that if the court had given them clean chit, only then the killers would have been justified in claiming innocence. He said that the unverified and incomplete JIT report of grade-19 official shows a lack of confidence in the investigation carried out by the senior judge of LHC Syed Baqar Najfi. He said that the newly appointed Governor Punjab has done the first wrong thing by administering an oath of office to the killer, adding that a Governor is the representative of the state and he should not close his eyes to the state terrorism.
Dr Tahir-ul-Qadri made these remarks while talking telephonically to the senior party leaders at the central secretariat yesterday. He said that we want constitution of an impartial JIT composed of officers of impeccable integrity, otherwise there is an example of murder being investigated by the Scotland Yard here and both of the examples are related to Punjab. He said that the Scotland Yard investigated the murder of former Prime Minister Mohtarma Benazir Bhutto and a Colonel of ISI carried out the investigation of judges' killing case in Sialkot.
Expressing his grave concern on the inclusion of Rana Sanaullah in the cabinet, Dr Tahir-ul-Qadri termed it as the dark incident of the nation's history. He said that now more blood of innocent people will be shed and killing spree will continue. He said that no suo moto notice is taken of cases in which Sharif brothers are involved. He asked whether the 14 martyrs and 85 injured people got justice that the last of the killers was reinstated to his ministerial post?
The PAT chief asked the human rights organizations and lawyers' community to raise their voice against the excesses and brutalities of the Punjab government, warning that otherwise the high and the mighty and power-drunk rulers will continue to wreak havoc on the lives of innocent people for their nefarious objectives. He instructed the panel of lawyers dealing with the Model Town case to take a deep legal look at the case from every angle and prepare fully.
Meanwhile, Dr Tahir-ul-Qadri strongly condemned the second terrorist incident in Saudi Arabia and killing of 20 innocent people in Mastung in Balochistan. He said that a great oppression is being committed in Balochistan and both the federal and provincial governments have failed in securing life and property of the masses. He said that the Prime Minister has grown insensitive to such an extent that he does not even bother to visit the bereaved families and offer his condolences to them.