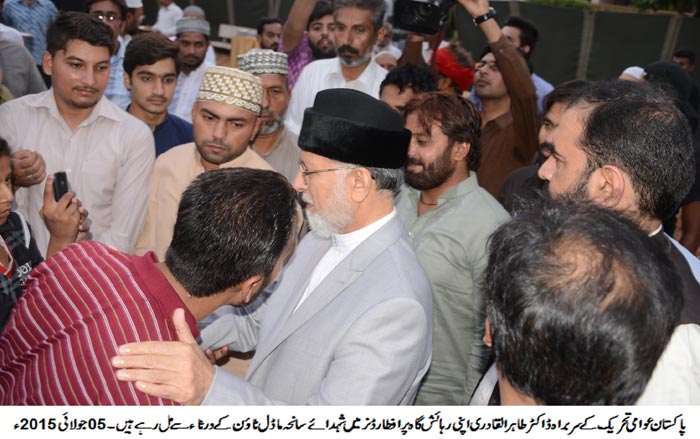 PAT chairman Dr Muhammad Tahir-ul-Qadri hosted Iftar dinner at his residence on Sunday in the honour of family members of the martyrs.
Speaking on the occasion, Dr Tahir-ul-Qadri said that those who gave their lives for revolution are role model for political parties of the whole world. He said the more the delay in provision of justice the greater the anxiety the killers are feeling. He said that we have evolved a strategy to get justice, adding that howsoever influential the killers may be but they cannot escape the long hand of law, adding that every drop of martyrs' blood will be avenged through the country's law.
Dr Qadri said that he wants to ask every rational person belonging to the field of law and politics as to what importance does an executive inquiry have after the application of judicial mind? He further asked, can some members of the executive fairly and impartially carry out investigation against other members of the executive?
Dr Hassan Mohi-ud-Din Qadri, Dr Hussain Mohi-ud-Din Qadri, Dr Raheeq Abbasi, Khurram Nawaz Gandapur, Sheikh Zahid Fayyaz, Amir Farid Koreja, Chaudhry Muhammad Sharif, Haji Manzoor Hussain Qadri, Raja Zahid and other leaders also attended the Iftar dinner.
Dr Tahir-ul-Qadri said that after the completion of investigation into the Model Town incident by the judicial commission set up by the Punjab government, the constitution of a JIT consisting of junior officers reflected the government's ill will and it was an attempt to deprive the families of martyrs of justice.
The children of martyrs, while speaking on the occasion, said that they are proud that their parents rendered sacrifices for the objective of revolution. They said that they are also ready to sacrifice their lives for the mission of revolution.
Dr Tahir-ul-Qadri showed his extreme love and affection for the children and said that he is immensely proud of his martyred sons and daughters. He said that no women have given birth to such courageous workers. He said that cowardly rulers tried to buy conscience of the children of the martyrs earning 'halal' livelihood. They made them lucrative offers of millions of rupees which their families rejected with disdain. He said that the killers will be brought to justice one day and will be held accountable for their crimes.