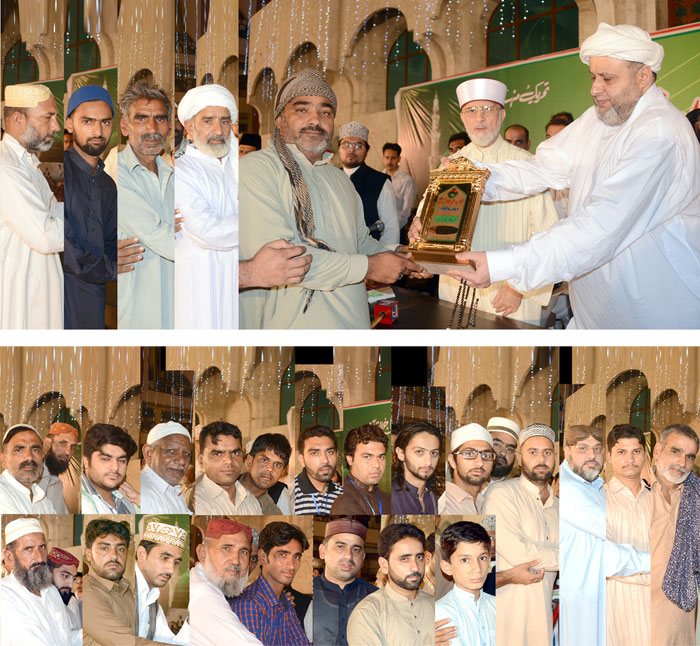 PAT chairman Dr Muhammad Tahir-ul-Qadri has said that evidence in the Model Town tragedy is safe and secure and we remember the faces of the killers. He said that all of these proofs and evidences are before the nation and the institutions responsible for dispensing justice cannot overlook them for a long time. He said that the Model Town tragedy is a potential earthquake for the rulers, adding that when this earthquake will hit, the killers will have no shelter to hide themselves and a place to run to. He said that if the rulers having heaps of wealth cannot buy his workers, how can they dare put a price tag on him? He said that he is making a commitment with the revolutionary workers and the heirs of martyrs that every drop of blood will be avenged through legal means.
The PAT chief spent last evening with the family members of Model Town tragedy. He distributed new clothes and 'Eidi' among the children of the martyrs and prisoners of revolution march and paid tributes to their resolve, patience and steadfastness. Dr Tahir-ul-Qadri along with Sayyid Mahmood Mohi-ud-Din al-Qadri al-Gilani presented awards of Nishan-e-Imam Hussain (RA) to the family members of martyrs and appreciated their sacrifices.
Dr Qadri said that he cannot forget these sacrifices of his workers throughout his life, adding that his coming generations will never forget these matchless sacrifices as well. He said that the struggle for revolution continues unabated. He said that the sit-in was just one chapter, whereas the whole book is still left. He said emphatically that revolution is bound to come, adding that darkness is destined to be replaced by light. He said that while saying yes to his call for elimination of oppressive system and rendering the ultimate sacrifices of their lives in the process, his workers proved that these precious and valuable workers are soldiers of Allah and Islam and no other party can claim to have such courageous and patient workers.
Dr Tahir-ul-Qadri said that we have made full preparation to fight legal battle for seeking justice for martyrs of Model Town tragedy, adding that each and every killer will be exposed in the court of law. He said that the rulers having ill-gotten heaps of wealth are roaming around to buy conscience of our workers but the moment they try to buy our poor but honourable workers having wealth of 'Iman', their offers are rejected disdainfully and their efforts go to naught much to their chagrin. He said that despite passage of one year, none of our workers was won over nor was he browbeaten into submission. He said that it is mistake of these power drunk rulers if they think that they can ever buy their conscience.