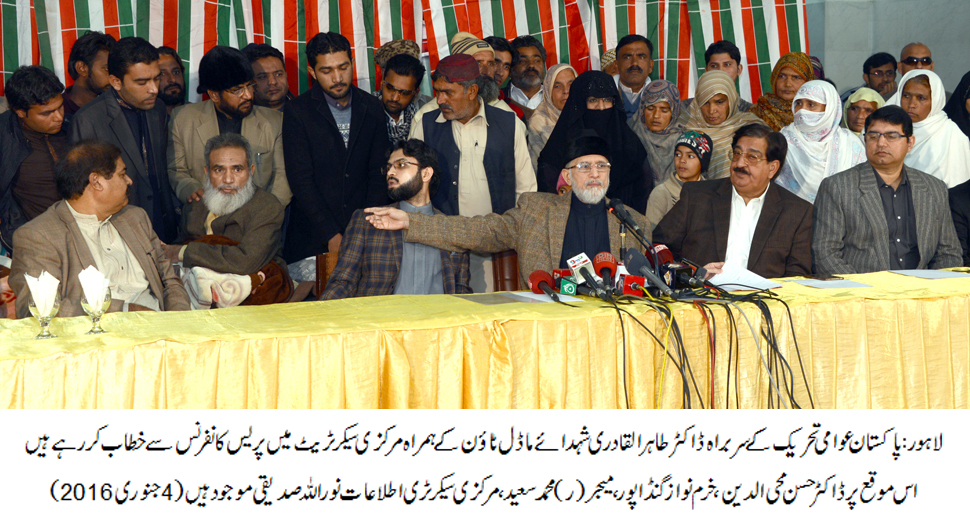 Addressing a heavily crowded press conference in the central secretariat of PAT along with family members of the martyrs, Dr Muhammad Tahir-ul-Qadri has said that he is completely fit and would not budge an inch from his stated position unless he takes revenge for the martyrs. He said that the blood of martyrs is a debt on us, adding that we would go to any extent for the sake of justice. He said that it now depends on the rulers as to what they want. He said that the rulers helped the main accused involved in the Model Town tragedy flee from the country. He said that the rulers have made political terrorism cell where decisions regarding life and death of political opponents are taken.
Dr Qadri said that he has his trust in the military only. He demanded that the Model Town case should be transferred to the military court for trial where police should present itself as witness. He said that if the justice was killed now, the oppressed people will be free to get justice. He asked whether those martyred in the Model Town were not citizens of Pakistan. The family members of the martyrs present on the occasion including the children, women and elderly chanted slogans demanding justice. They expressed their unflinching faith in the leadership of Dr Tahir-ul-Qadri and said that they are ready to sacrifice their lives for the sake of justice and against system of oppression. Dr Hassan Mohi-ud-Din Qadri, Chairman of MQI Supreme Council, Khurram Nawaz Gandapur, PAT Secretary General, Major (r ) Muhammad Saeed, Chief Coordinator of PAT, Noorullah Siddiqui, Secretary Information, and other leaders were also present on the occasion.
Dr Tahir-ul-Qadri said that the rulers have kept the whole system shackled and no institution is free. He said that what to speak of provision of justice without approval of rulers, not even a supplementary can be written. He said that we know that we will not be able to get justice as long as these rulers remain in power. He however added in the same breath that they will not cling on to power forever. He said that they would answer for each and every excess in this world and the sun of justice will surely rise one day.
The PAT chief stated categorically that he would continue to wage his struggle for the justice and rights of 180 million people in addition to Model Town victims till the last breath of his life. He said neither have we retreated from our stated position nor should anyone think on this line, adding let us see as to when we come to the end of our tether. He said that he would like to salute the brave family members of the martyrs as their courage and determination sustained him and his struggle for justice. He said that his illness is not a hurdle in his way anymore. He revealed that the government's negotiating team presented the name of an honest police officer to head the JIT during the sit-in. He said that we gave our consent to the name but the team told him the next day that the Prime Minister was not satisfied with the name of the officer.
Dr Tahir-ul-Qadri said that we want to ask that if the rulers are not involved in the Model Town tragedy, why do they not make a non-controversial and neutral officer as head of the JIT? He said that we would not accept the JIT report compiled by the yes-men of the rulers at any cost. He said that our innocent workers are being disgraced and humiliated in the courts under the fake FIR lodged by the Government. He said that we have been going from pillar to post for justice for last one and half years but to no avail. He said that our security guards employed as per law and rulers had licensed weapons, adding had we put up resistance, 14 people would have died from the other side as well.
In reply to a question, Dr Tahir-ul-Qadri said that those, expert in buying conscience, failed to put out a price of our workers. He said that those who clinch deals have lowered eyes and are unable to speak the truth openly. Replying to another questions, he said that the Muslim world stands at a dangerous crossroads. He said that conspiracies are afoot to further dismember the Muslim world, which is already a victim to oppression and injustices. He said that whatever is going on in the Islamic world is not favourable to them at all. He said that whole detail about 34-country military alliance should be placed before the Muslim Umma and the questions around it should be answered satisfactorily as to the aims and objectives of the alliance, the target and enemies and its member countries. He said that it is equally important to know whether those countries fighting against Daesh are part of the alliance. He said that all of these questions need definite answers.
Press Conference: Dr Qadri vows to avenge Model Town killings

I am determined to get justice for martyrs of Model Town tragedy: Dr Muhammad Tahir-ul-Qadri Addressing a heavily crowded press conference in the central secretariat of PAT along with family members of the martyrs, Dr Muhammad Tahir-ul-Qadri has said that he is completely fit and would not budge an inch from his stated position unless he takes revenge for the martyrs. He said that the blood of martyrs is a debt on us, adding that we would go to any extent for the sake of justice. He said that it now depends on the rulers as to what they want. He said that the rulers helped the main accused involved in the Model Town tragedy flee from the country. He said that the rulers have made political terrorism cell where decisions regarding life and death of political opponents are taken.http://lahoremassacre.com/tid/35121/get-justice-martyrs-Lahore-Model-Town-tragedy-massacre-incident-14-people-martyred-Dr-Tahir-ul-Qadri-minhaj-ul-quran-state-terrorism-worst-incident-Pakistan-state-terrorism.html

Posted by State Terrorism on Monday, January 4, 2016