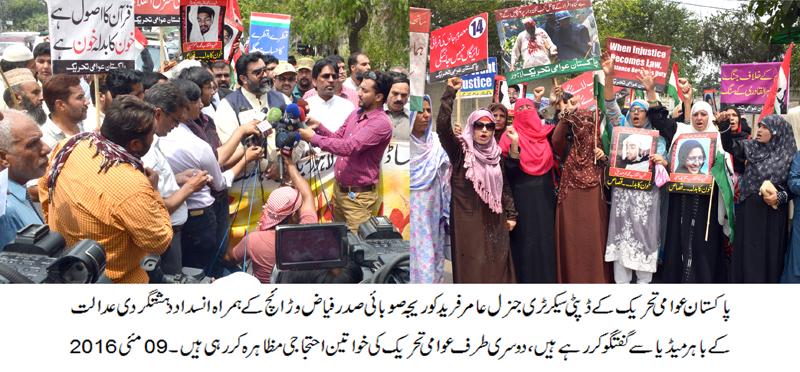 Pakistan Awami Tehreek (PAT) held a demonstration in front of the anti-terrorism court to seek justice for Model Town martyrs. Senior leaders and workers including women attended the demonstration in large number. Khawaja Amir Fareed Koreja, Fayyaz Warriach, Noorullah Siddiqui, Jawad Hamid, Naeem-ud-Din Chaudhry Advocate, Hafiz Ghulam Farid, Irfan Yousaf, and Raja Zahid spoke on the occasion.
Addressing the participants of the demonstration, Khawaja Amir Fareed Koreja said that we would fight the legal battle and take to the streets as well for justice in Model Town case. He said that two have passed and no headway has been made in the case as the heirs of the martyrs await justice even today.
Speaking to the demonstration, Fayyaz Warraich said that Model Town tragedy was not the result of provocation but an outcome of the careful planning. He said that we would tell the court on May 11 as to how our leaders and workers were threatened and were told to stop Dr Tahir-ul-Qadri from coming to Pakistan. He said that threats were hurled to crush down the protest. He said that looters of national wealth are the killers of the innocent people in Model Town tragedy. He said that we would not budge even a single inch from our demand of accountability and answerability of those who sprayed bullets on the people. He said that the PAT workers will observe June 17 as the Day of Martyrs.
The hearing of complaint in the Model Town case will be held on May 11 in which Fayyaz Warraich will record his statement.