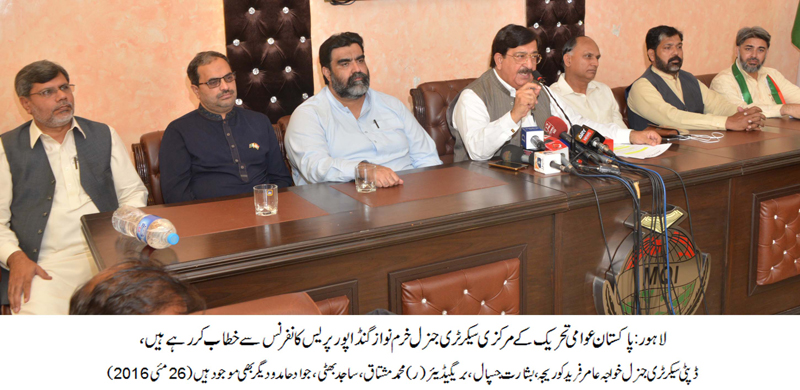 Pakistan Awami Tehreek has decided to stage a sit-in on June 17 at the Mall Road Lahore. PAT Chairman Dr Muhammad Tahir-ul-Qadri will lead the sit-in.
Announcement to this effect was made by PAT Secretary General Khurram Nawaz Gandapur while addressing a press conference at the central secretariat here in Lahore on May 26 along with other members of the Core Committee. He said that the DCO Lahore has been informed about the PAT's plan of a sit-in through a letter. He said that 'Traveh' prayers will be offered at The Mall and fast will be kept there besides this, next course of action will also be announced on this occasion. He said that the party has extended an invitation to Imran Khan, Siraj-ul-Haq, Raja Nasir Abbas, Sahibzada Hamid Raza, and the heads of other parties to attend the sit-in.
Senior PAT leaders Khawaja Amir Fareed Koreja, Basharat Jaspal, Fayyaz Warraich, Noorullah Siddiuqi, Sajid Bhatti, Jawad Hamid, GM Malik, Raja Zahid and others were also present at the press conference.
Khurram Nawaz Gandapur said that we would tell on June 17 that neither did the PAT clinch any deal nor accepted any blood money nor have we backtracked on our commitment to seek justice. He said that we have come to the end of tether. He said that an effort was made to push the Model town issue under the carpet through establishment of fake JIT, adding that we would not let it happen and go to any extent for justice. He said that FIR on the Model Town tragedy was registered after intervention of the army chief, further saying that he should play his role for justice as well.
The PAT Secretary General said that the saying of Dr Tahir-ul-Qadri has proven true wherein he had stated that justice is not possible in the presence of the current rulers. He said that proceedings are underway in the anti-terrorism court under the fake police FIR against the family members of the martyrs, whereas no progress has been made on the FIR lodged by the heirs of the martyrs despite passage of two years. He said that we used our legal right to file a private complaint after long wait, which is at its initial stage. He said that 30 injured people, who were eye witnesses of the tragedy, have recorded their statements.
Khurram Nawaz Gandapur said that Dr Tahir-ul-Qadri will be among the workers at The Mall on June 17. He said that people from Punjab and other provinces will gather at The Mall for justice. He said that we are peaceful people and hope that the government would not create hurdles in our way, adding that in case any hurdles were thrown in the way top government leadership would be responsible. He said that we have heard that the federal government is hatching conspiracies to take an action against Justice Najfi for giving a report against the government of Punjab. He said that if any such plan was implanted, the rulers will face even bigger backlash than what it faced on the Panama leaks. He said that we would clean The Mall after the sit-in.