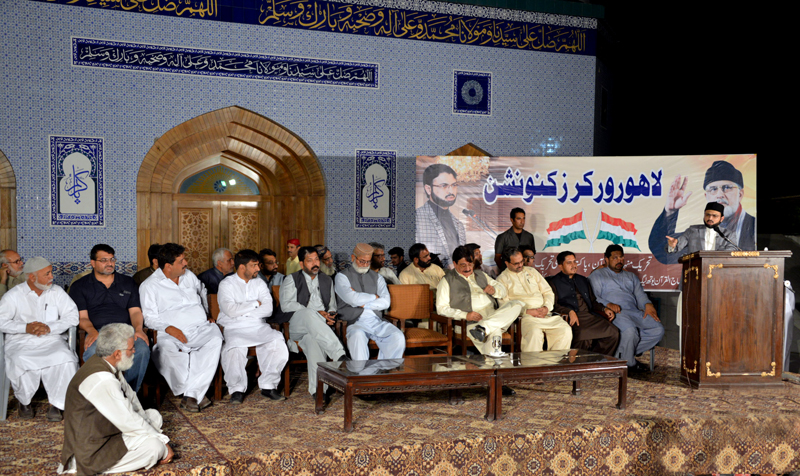 Addressing the Workers Convention held under the banner of MQI and PAT Lahore chapters at the central secretariat, Chairman Supreme Council Dr Hassan Mohi-ud-Din Qadri has said that the sit-in is being arranged on June 17 to demand justice for martyrs of Model Town. He said that we have informed the government that the event will be held on The Mall in every case. He said that the protest will be attended by leaders of political parties, civil society and human rights organizations. He said that the caravans would reach The Mall by evening.
PAT Secretary General Khurram Nawaz Gandapur, Amir of MQI Lahore Hafiz Ghulam Farid, Ishtiaq Hanif Mughal, Chaudhry Afzal Gujjar, Hanif Qadri, Habibullah Butt, Engineer Sanaullah, Sajid Ashgar, Haji Muhammad Ishaq, and Hanif Sabri spoke at the Convention. Naib Nazim e Aala Ahmad Nawaz Anjum, Sajid Bhatti, Raja Zahid, Jawad Hamid, Ch. Naeem-ud-Din Advocate and others were also present on the occasion.
Dr Hassan Mohi-ud-Din Qadri said that an effort is being made to make the report of the Model Town Judicial Commission and the judge controversial. He said that the report of the judicial commission is a Damocles' Sword hanging on the heads of the rulers and the government is engaged in conspiracies to remove it. He said that the Model Town Commission report contains the names and addresses of the perpetrators of Model Town. He said that it has been one year since we have been knocking at the doors of LHC to get a copy of the report. He said that we would get delayed hearings previously but the case has been put on hold for an indefinite period now.
Dr Hassan said that we would draw the attention of the nation and the institutions responsible for justice towards oppression and injustice done against the martyrs of Model Town by holding protest on June 17 on The Mall.