Youtube

PAT Chairman Dr Muhammad Tahir-ul-Qadri has said that leaders, office bearers and workers of other political parties should their national and moral duty by attending the sit-in and protest to demand justice for the Model Town martyrs. He said that the martyrs of Model Town tragedy are martyrs of the whole nation and not of any one political party.
In his message to the shopkeepers and traders of The Mall, Dr Qadri asked them to keep their businesses and shops open, adding that security of every shop was his and if any damage is done, his party will compensate for it. He said that our workers will provide security to your shops and thousands of people attending the sit-in will do shopping and thus their sales will register phenomenal increase. He asked the traders not to worry about anything. He said that it is peaceful protest and there is no possibility of any harm coming in anybody's way.
The PAT Chairman said that justice has not been served despite passage of two years. He said that those who killed innocent people in the broad daylight will meet their end through the law of the land. He said that police stations and assemblies have become business markets where consciences are bought and justice is compromised. He said that the present so-called democratic system stands on the poor's sobbing and tears and this façade in the name of democracy would not go on forever. He said that the purpose of holding the protest is to seek justice for the Model Town victims.
Meanwhile, Jamaat-e-Islami Ameer Siraj-ul-Haq telephoned Dr Tahir-ul-Qadri and assured of his support for the PAT's sit-in. He told the PAT Chairman that his party stands in solidarity with PAT in its struggle for elimination of oppression and demand for justice. He said that as long as oppression and corruption are intact, the objectives of Pakistan's establishment would not be fulfilled.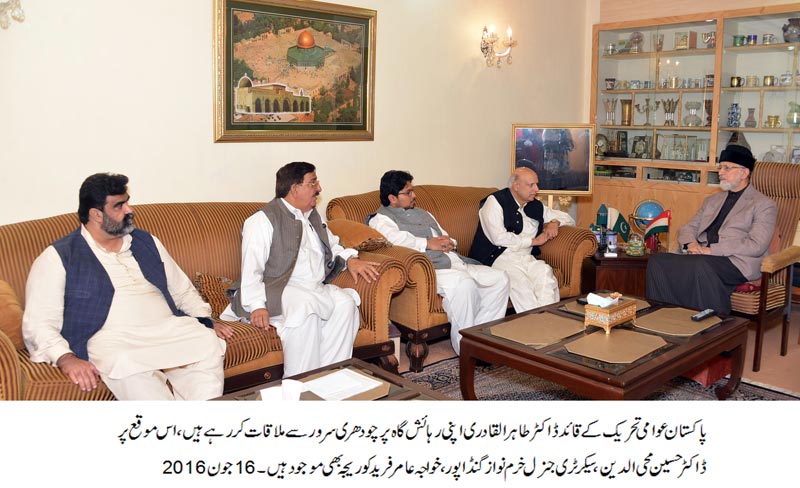 Senior PTI leader Chaudhry Muhammad Sarwar called on Dr Tahir-ul-Qadri at his residence yesterday and exchanged views on matters of mutual interest. Dr Hassan Mohi-ud-Din Qadri, Khurram Nawaz Gandapur, Khawaja Amir Fareed Koreja, Fayyaz Warraich and other leaders were also present in the meeting. Ch. Sarwar supported PAT's struggle for justice and the holding of protest on June 17.
Ch. Sarwar said that nowhere does it happen in the world that the government's force kills innocent people in the broad daylight for no reason and then even FIR is not allowed to be registered and dozens of people remain deprived of justice for years. He said that there is a need of decisive political struggle to rid Pakistan of corruption and oppression.
PML-Q leader Imran Masood also called on Dr Tahir-ul-Qadri at his residence and assured of his participation in the sit-in. The central Core Committee members also held a meeting with the PAT Chairman and gave him report of arrangements of sit-in. Dr Qadri expressed his satisfaction on the preparations.
Khurram Nawaz Gandapur asked the traders not to be fooled by the government. He said that they should keep their shops open, adding that the protest is peaceful solely for justice of Model Town martyrs. He invited them to attend the protest to express their support for the cause of justice.