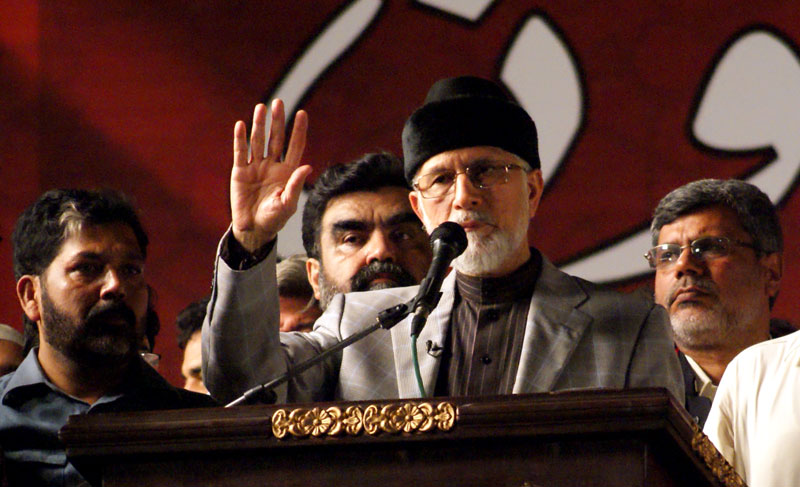 Addressing thousands of people of the sit-in organized by PAT on The Mall to protest lack of justice in the Model Town case, PAT Chairman said that law is unable to help the weak. He said that the powerful culprits buy blood in the name of 'blood money or Diyyat'. He paid rich tributes to patience and steadfastness of the families of martyrs of Model Town tragedy. He also expressed his gratitude to all those who have supported the PAT in its struggle to seek justice for the Model Town victims.
Dr Tahir-ul-Qadri said that a movement whose workers are personification of perseverance, no oppressor can face such a movement leave alone crushing it. He said that the PAT workers proved through their action that their leader inculcated in them the values of 'Tawakkul', perseverance and faith.
Referring to Model Town tragedy, Dr Qadri said that the architects of the Model Town incident are Sharif brothers who ordered mass killing on this fateful day two years ago. He asked, 'how can a system in which those who get killed cannot even get their FIR registered be called a democracy? He said that witnesses, complainants and those who got killed were made to stand in the dock through formation of JIT of choice. He said that we filed private complaint, adding that 36 witnesses have recorded their statements but so far maintainability of the private compliant has not been decided.
The PAT Chairman said that independence of judiciary is such that the Justice Baqar Commission report has been hushed up to date and despite our best efforts, we have not been able to get a copy of the report. He said that the people are so fed up with the system that they sell blood of their near and dear ones instead of fighting for justice. He said that the states can function on 'Kufr' but not by perpetrating oppression. He, however, added in the same breath the darkness of oppression will ultimately be replaced by rising of sun of justice.
Dr Tahir-ul-Qadri said that General Raheel Sharif got the FIR of Model Town tragedy registered and it is he who can make us get justice as no other way of getting justice is left. He said that we want 'Qisas' of martyrs of revolution through the military court.
Talking about the ongoing Panama leaks imbroglio, Dr Tahir-ul-Qadri said that in his nationwide address, the Prime Minister presented himself and his family for accountability on Panama leaks but the matter is being dragged to date.
The PAT Chairman said that the China-Pakistan Economic Corridor is the mega project of national progress and prosperity whose protector is Pakistan Army. He said that Pakistan is a pivot of various world civilizations and the best country for tourism. He said that this country has the ability to become prosperous provided it gets competent and honest leadership. He said that we want elimination of terrorism, extremism and sectarianism from the country. He said that we did not let go of our peacefulness even in the face of harsh circumstances because we want the culture of bullets to end. He said that Pakistan's progress, prosperity and safety of its people is our dream, for which we are struggling relentlessly.
Thousands of men and women, the old and the young braved the worst heatwave to reach Lahore to express their solidarity with the martyrs of Model Town tragedy. The representatives of various political parties such as PPP, PTI, PML-Q, AML, Jamaat e Islami and MWM also attended the sit-in as a mark of support for the PAT.