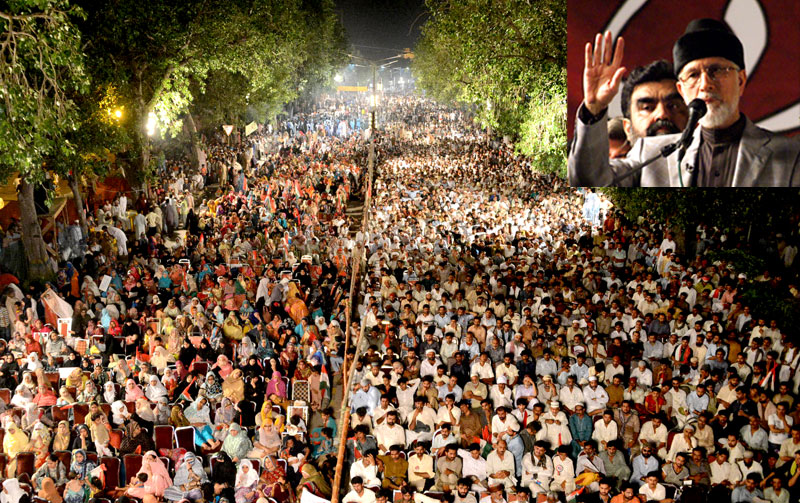 To mark the second anniversary of the Model Town tragedy, Pakistan Awami Tehreek staged a sit-in on The Mall on June 17, which was attended by PAT workers and people in large numbers. The representatives of various political parties such as PPP, PML-Q, PTI, JI, MQM and AML also attended the sit-in as a mark of support for the PAT. PTI's Ch. Sarwar and Aleem Khan, Sardar Latif Khosa and Mian Manzoor Ahmad Wattoo of PPP, JI Secretary General Liaqat Baloch, and PML-Q leader Kamil Ali Agha were the distinguished guests at the protest. Dr Hassan Mohi-ud-Din Qadri, Chairman of MQI Supreme Council, Dr Hussain Mohi-ud-Din Qadri, other senior PAT leaders and families of the martyrs were also present on the occasion.
Addressing thousands of people of the sit-in, PAT Chairman said that law is unable to help the weak. He said that the powerful culprits buy blood in the name of 'blood money or Dayyat'. He paid rich tributes to patience and steadfastness of the families of martyrs of Model Town tragedy. He also expressed his gratitude to all those who have supported the PAT in its struggle to seek justice for the Model Town victims.
Dr Tahir-ul-Qadri said that a movement whose workers are personification of perseverance, no oppressor can face such a movement leave alone crushing it. He said that the PAT workers proved through their action that their leader inculcated in them the values of 'Towakal', perseverance and faith. He said that lucrative offers of money and jobs abroad were made to the families of martyrs but they did not waste even a second to reject them. He said that all families below to the working class but still they displayed character while standing up to stick and carrot.
Dr Qadri said that it is unique incident in Pakistan's history whereby a combination of big money and power failed to win over the conscience of the people. He said that the rulers let loose their goons in the garb of police in the dark of night who killed 14 innocent people, sprayed bullets on hundreds of people, injuring them and making them disabled for life. He said that the elderly, women and even children were not spared. He said that he taught his workers to stand up for the sake of principles and not to give in to lures of material wealth and might of the oppressor.
The PAT Chairman said that Shahbaz Sharif mad popularized the myth that he remains awake for 22 hours in a day of 24 hours. He asked where the so-called 'workaholic' CM was on June 17, adding how come he only came to know of the tragedy after 14 people had died and hundreds of them had been injured.
Referring to Model Town tragedy, Dr Qadri said that the architects of the Model Town incident are Sharif brothers who ordered mass killing on this fateful day two years ago. He said that some federal ministers and senior police officers are also responsible for the Model Town massacre. He asked how come it is possible that the police can take lives of innocent people without the manifest approval of the rulers. He said that what we are looking for is justice and blood for blood under the law of the land.
He asked, 'how can a system in which those who get killed cannot even get their FIR registered be called a democracy? He said that witnesses, complainants and those who got killed were made to stand in the dock through formation of JIT of choice. He said that we filed private complaint, adding that 36 witnesses have recorded their statements but so far maintainability of the private compliant has not been decided.
The PAT Chairman said that independence of judiciary is such that the Justice Baqar Commission report has been hushed up to date and despite our best efforts, we have not been able to get a copy of the report. He said that the people are so fed up with the system that they sell blood of their near and dear ones instead of fighting for justice. He said that the states can function on 'Kufr' but not by perpetrating oppression. He, however, added in the same breath the darkness of oppression will ultimately be replaced by rising of sun of justice.
Dr Tahir-ul-Qadri said that General Raheel Sharif got the FIR of Model Town tragedy registered and it is he who can make us get justice as no other way of getting justice is left. He said that we want 'Qisas' of martyrs of revolution through the military court. He said that elimination of terrorism is necessary under National Action Plan and Model Town tragedy is the shining example of terrorism.
The PAT Chairman said that this protest could have been held last year as well but we fought the legal battle but after the lapse of two years we stand where we stood back then. He said that the institutions work under the orders of the PM and CM. He said that we even went to the high court but failed to get heard. He said that since the rulers are the principal accused, how can they deliver justice to us? He said that while Sheikh Rashid gave the deadline of September, I can see the rulers going home well before it.
Talking about the ongoing Panama leaks imbroglio, Dr Tahir-ul-Qadri said that in his nationwide address, the Prime Minister presented himself and his family for accountability on Panama leaks but the matter is being dragged to date. He said that despite various meetings spread over three weeks, parliamentary committee failed to reach a consensus because the government does not want the accountability of the PM.
He said that Pakistan has been isolated as a result of the incompetence of rulers. He said that the PM has no interest in foreign policy, nor is there any foreign minister of the government. He said that the PM is in self-exile and cabinet does not have the authority to take decisions. He said that the country is being run like a kingship, which is worse than dictatorship. He said that the rulers have used the power to expand their businesses and establish contacts with tycoons.
The PAT Chairman said that the China-Pakistan Economic Corridor is the mega project of national progress and prosperity whose protector is Pakistan Army. He said that Pakistan is a pivot of various world civilizations and the best country for tourism. He said that this country has the ability to become prosperous provided it gets competent and honest leadership. He said that we want elimination of terrorism, extremism and sectarianism from the country. He said that we did not let go of our peacefulness even in the face of harsh circumstances because we want the culture of bullets to end. He said that Pakistan's progress, prosperity and safety of its people is our dream, for which we are struggling relentlessly.
In the end, Dr Qadri said Pakistan is blessed with natural and human resources and it should only be purged of corruption and incompetence. He said that the present rulers do not seem to be holding on to power beyond September. He said that we talked about one-day's sit-in and we are concluding it for now as we wanted to honour our word. He said that if justice was not served, we could give the call of the sit-in at a week's notice after Eid.
Thousands of men and women, the old and the young braved the worst heatwave to reach Lahore to express their solidarity with the martyrs of Model Town tragedy.
Speaking on the occasion, Sheikh Rashid Ahmad said that he never saw such a big public gathering on the night of holy month of Ramazan. He said that today's public meeting was just a trailer and such a movie will be played after Eid that the foundations of the Raiwind palace will be shaken. He said that how can a country be run whose Finance Minister has been involved in money laundering. He said that he twice remained on the cabinet of Nawaz Sharif and knows from experience that he would not surrender easily. He said that a fierce Go Nawaz Go movement will be waged from August 10 to September 10.
PPP Punjab President Mian Manzoor Ahmad Wattoo said that we are attending the protest on the instructions of Asif Ali Zardari. He said that we stand with Dr Tahir-ul-Qadri unless the victims of Model town get justice.
Former Governor and senior PPP leader Sardar Latif Khan Khosa said that the killings took place at the behest of the Chief Minister. He said that Dr Tahir-ul-Qadri is right when he says that no justice can be dispensed in the presence of the rulers.
MQM Senator Mian Ateeq-ur-Rehman said that we have come to show our solidarity with the PAT. He asked where the government was when the innocent people were being killed. He said that justice should be served in the Model Town case.
PTI senior leader Ch. Sarwar said that Imran Khan and the whole PTI is with the martyrs of Model Town. He said that Dr Tahir-ul-Qadri is serving Islam and he is a pride of Pakistan. He said that two years have lapsed but the martyrs of Model Town have not got justice. He said that Dr Qadri has the support of the millions of people, adding that what will be the state of common man if he did not get a justice?
Kamil Ali Agah of PML-Q said that massacre of the innocent people took place for hours two years ago in which 14 people were martyred and around 100 sustained serious injuries. He said that the killers remain at large while the families of martyrs go from pillar to post for justice. He said that Ch. Shujaat Hussain and Ch. Pervez Elahi were with the martyrs before and they would continue to stand with them till justice is served.
PAT leaders Khurram Nawaz Gandapur, Khawaja Amir Fareed Koreja and Sajid Bhatti also addressed the sit-in.