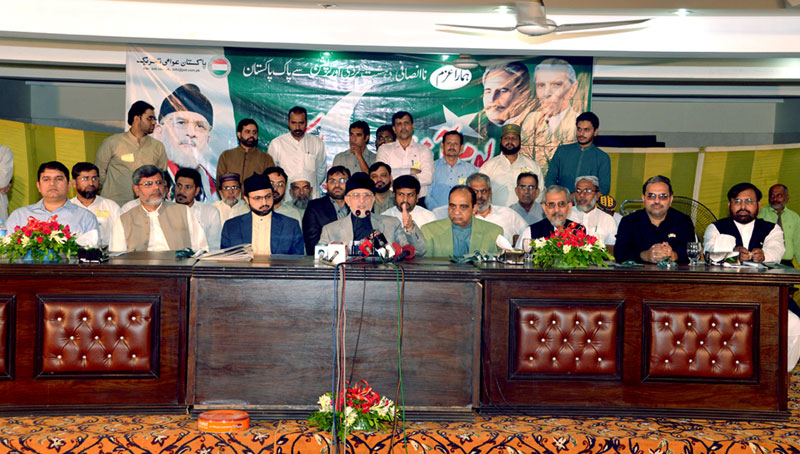 Addressing the Azadi Convention in the PAT central secretariat, PAT Chairman Dr Muhammad Tahir-ul-Qadri has said that the Prime Minister made an attempt to establish a contact on August 13 through some source to stop the movement. He said that he made it clear to all those establishing backdoor contacts that there would be no talk less than Qisas. He said that protest demonstrations will now be held for integrity and security of Pakistan across 130 cities instead of 100 on August 20. He said that if the government resorted to use of force and tried to block the protests, he himself would lead the caravans of protest. He said that we congratulate the Army Chief on launching the combing operation in Lahore after Rawalpindi.
The Azadi Convention of PAT was attended by people belonging to various walks of life including doctors, engineers, professors and experts who are graduates of the Minhaj University. Chairman Supreme Council Dr Hassan Mohi-ud-Din Qadri, Matloob Warraich, Basharat Jaspal, GM Malik, Noorullah Siddiqui, Jawad Hamid, Rana Muhammad Idrees, Abul Hassan Al-Azhari, Shahzad Rasool, Mumtaz Hussain Barwi, Sohail Raza and Ain-ul-Haq Baghdadi were also present on the occasion.
Dr Tahir-ul-Qadri said that Punjab led to Waziristan, adding that there is a need of combing operation in every city of Punjab. He said that the Sharif family wants to establish a dynastic rule with the ill-gotten money but their dream would not materialize and all of their plans will fail. He said that we would not rest till we purge Pakistan of terrorism, corruption and injustice. He said that the Qisas and accountability movement is a movement for integrity of Pakistan. He said that the PM responded to concern of Pakistan Army regarding less than satisfactory implementation of NAP by going to Shorkot and performing the groundbreaking of a road. He said that through this gesture, he made it clear that his priorities lie in building roads and bridges and not in defence of Pakistan.
Dr Qadri said that the movements of opposition may be separate but will converge on the single point agenda. He said that we ask every political party on this historic Independence Day that they should compensate for the political sins by playing their role to get rid of the exploitative, corrupt, and incompetent system.
The PAT Chairman attended the flag hoisting ceremony at the central secretariat and made a Dua for peace, progress and prosperity of the country. He congratulated the nation on the Independence Day and chanted slogans along with the workers.
Dr Qadri said that the maximum number of martyrdoms after the freedom struggle were rendered in the war against terrorism. He said that we would not let anyone play with national security and waste the gains made in this war. He said that the Sharif brothers entered politics for financial benefits. He said that they have their front men across the world, who own their companies. He said that the Panama leaks have exposed their real faces. He said that he cannot give any definite date but the days of the ruling clique in power have been numbered. He said that our Qisas and accountability movement will open up the closed doors of justice. He said that those raising questions on CPEC are the political allies of the government.