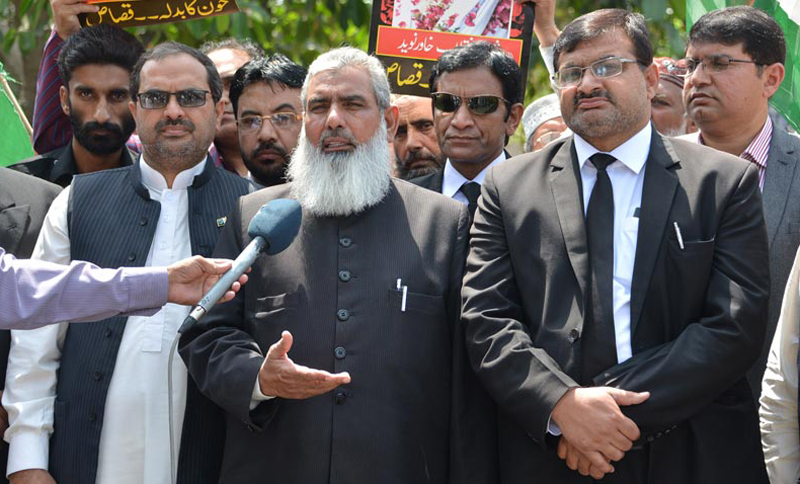 Initiating the arguments in the antiterrorism court in connection with the private complaint in the Model Town case, the lawyers of PAT have said that the tragedy is not merely an accident but a consequence of pre-meditated strategy. They said that the barriers were placed before the residence of Dr Tahir-ul-Qadri on the orders of the Lahore High Court in the presence of SP Ayaz Salim. They said that he then submitted his written statement in the court regarding the safety measures. The Model Town police detailed 16 police officials for security of these barriers who remained posted till the morning of June 17.
Rai Bashir Ahmad Advocate started the arguments. Naeem-ud-Din Chaudhry Advocate and Jawad Hamid were also present on the occasion. Rai Bashir proved the claim of DIG Operations Rana Abdul Jabbar and DCO Lahore being absent from the scene of occurrence with the documented video record. He presented the video footage of their dialogue with the MQI representatives.
The PAT lawyers submitted the LHC orders on which the barriers were placed outside the residence of Dr Tahir-ul-Qadri as well as the letters of different intelligence agencies about threats to the life of Dr Tahir-ul-Qadri.
Rai Bashir told the court that there is a political background of the Model Town tragedy. He said that the Sharif brothers were worried over Dr Tahir-ul-Qadri's revolutionary struggle as well as his pro-poor ten point agenda. He said that when Dr Tahir-ul-Qadri announced to return to Pakistan on June 11 in a press conference from Canada. Both the federal and Punjab government got busy in trying to think of the ways to stop him from coming to Pakistan.
Rai Bashir said that Dr Tahir-ul-Qadri nominated Sharif brothers, Ch Nisar, Khawaja Asif, Pervez Rasheed, Abid Sher Ali and Rana Sanaullah in the FIR in case anything happened to his life. He also presented the clippings of the threatening statements and vide record of the ministers to the court. The next hearing of the private complaint will take place on January 5. The PAT lawyers will present more proofs in the court of law.