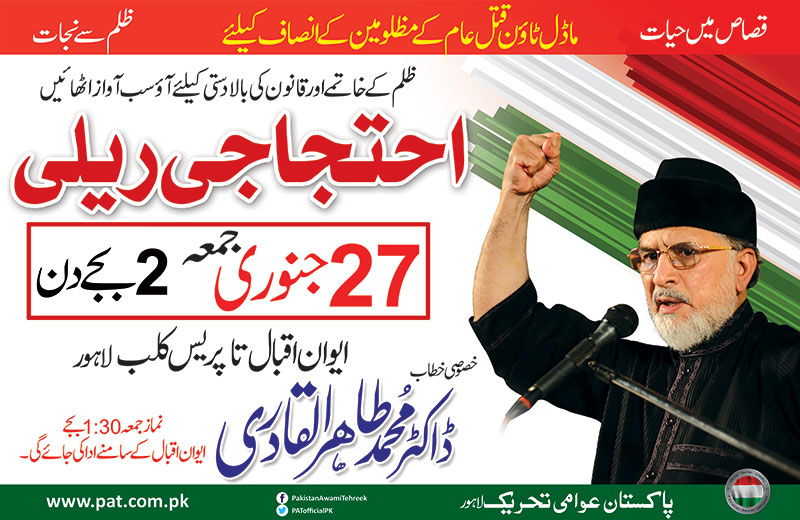 PAT Chairman Dr Muhammad Tahir-ul-Qadri has said that he still holds on to his comment of "Inna lillahi wa inna ilayhi raji'un", saying that funeral of Panama is ready and only burial is left. He said that though strong evidence is present but as long as the powerful mafia and 'Sultans' continues to rule the country, no institution can hold them accountable. He said that 'Sultans' tried to push the report of the Quetta commission under the carpet but it came out, adding that it is not just failure of one ministry but the whole government.
Dr Tahir-ul-Qadri stated this while talking to a private TV channel last night. He said that the rulers do not go to the nation but to Election Commission, which then makes all arrangements. He said that Mian Sharif used to share small things with him but he never talked about his Qatari investment. He said that strict notice should be taken of the statement on money trail being dubbed as a political one on the floor of Parliament. He said that they do not have legal money trail, adding that the letter of Qatari prince is in itself the biggest proof of corruption. He said that blood of 14 innocent people and 100 injured is on the rulers.
Dr Qadri said that if the Quetta Commission report can be made public, why not the Najfi commission report? He said that the current rulers are overwhelmed by stubbornness, insensitivity & shamelessness that do not let them accept pressure of people, media & public meetings. He said that all matters related to election are settled in Raiwind. Duties are assigned. Money is spent. Votes & seats are bought.
The PAT Chairman said that often most notorious character of any neighborhood is PML-N representative. Police is used to browbeat the opponents. He said that for decision in Panama case, PM's speech delivered in Parliament was enough. If it were any other country, Parliament would have declared PM disqualified. He said that arrival of Qatari prince to save the rulers from legal proceedings is a sign that they are thief. He said that all resources and power come to naught when time for accountability approaches.
Dr Tahir-ul-Qadri said that we have decided to hold a protest for justice in Model Town case on January 27 in Lahore. He further said that 17 SHOs, 7 SPs and 1 DIG were present at the time of operation in the Model Town. He demanded that all masterminds should be summoned and held accountable for their role in the tragedy. He said that the second and third round of Qisas are left and we will not compromise on our demand for justice.