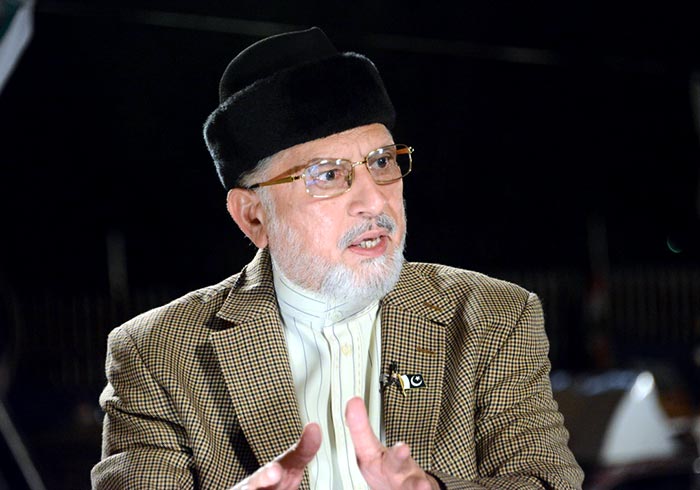 PAT Chairman Dr Muhammad Tahir-ul-Qadri has said that our basic demand in the private complaint regarding Model Town tragedy was to summon the Sharif brothers which has not been accepted. He, however, added in the same breath that we would use our legal right for their summoning. He said that sacrifice of scapegoats will not be enough. He said that it is hoped that the police officials will not speak up untimely like Soulat Mirza, adding that they will have to speak every time to get justice. He said that he would give his detailed response on the ATC judgment after taking briefing from the legal team.
Talking to the PAT leaders, Dr Tahir-ul-Qadri said that antiterrorism court has summoned everyone from IGP to Police constable involved in the Model Town tragedy but those who gave illegal orders have not been summoned. He said that it is a glaring message for the police officials who implement rulers' bidding blindly that they have used them for their political objectives. He said that those who acted upon illegal orders of the Sharif brothers will now be punished for killing innocent people. He said that it is high time police officers told the truth and informed the people and law about main characters involved in the Model Town tragedy, otherwise they will have to accept the whole responsibility.
Dr Qadri said that he had already stated that the Sharifs' representatives that included federal ministers and family members who came to see him only requested about pardon of the Sharif brothers. They did not talk not about pardon or forgiveness of any police official. He said that we have maintained that the Sharifs believe in sacrifice of scapegoats but we will not be content with it. He said unless real perpetrators of Model Town tragedy are brought to justice, we will continue our legal and political struggle. He said that he wanted it to make it clear that if the doors of justice appeared to be closing completely, then he will be left with no option but to announce the second round of Qisas movement. He said that of all the people summoned by the court, some will fall 'ill', others will run away and many more will cook up excuses to evade justice.