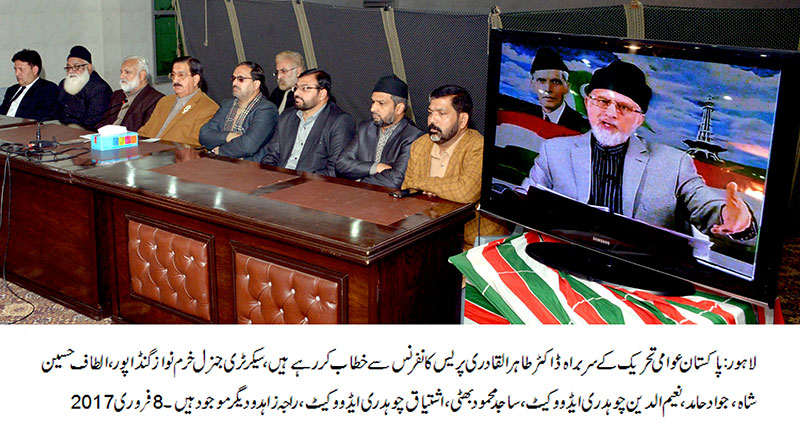 Addressing a hurriedly called press conference through a video link from Toronto, PAT Chairman Dr Muhammad Tahir-ul-Qadri has announced to challenge the anti-terrorism court's (ATC) verdict in the Lahore High Court. He said that we did not expect that even IGP and DIG will be summoned, adding that IGP has been called on the contention that he was present in his office at 9:55 am on the morning of June 17, 2014. He said that similar statements of Chief Minister Shahbaz Sharif and Rana Sanaullah are on record as well. He said that both Shahbaz Sharif and Rana Sanaullah should be summoned to dig deep into the conspiracy, stating more people will be rounded up automatically in that way.
Dr Tahir-ul-Qadri said that ATC has called IG and DIG as accused, therefore, they have no moral justification to continue in their offices. He said that Mushtaq Sukhera was transferred from Balochistan to Punjab on the orders of some authority, adding that it cannot be possible that he came to Punjab out of his own will. He asked, "Was it IGP who ordered his (Dr Qadri's) aircraft to be redirected to some other destination other than Lahore? Was it IGP who appointed Dr Touqir Shah as Ambassador in Geneva? Are all of these incidents not enough to establish a direction connection of the Sharif family with the Model Town tragedy?
He said that Rana Sanaullah stated in an affidavit that he presided over a meeting in the civil secretariat on June 16, 2014 to discuss the removal of barriers, which was attended by Commissioner Lahore Rashid Langrial, Home Secretary Azam Suleman, and Principal Secretary to Chief Minister Dr Tauqir Shah. He said that at a time when the accused are confessing their association with the Model Town tragedy, what more proofs are required?
Dr Tahir-ul-Qadri said had the court asked for the minutes of the meeting of June 16, the whole matter would have been clarified. He asked where from we can bring the record of the official meetings. He said, 'Is it not enough that the whole world saw through TV cameras that the police fired directly on the innocent people with 14 of them dying there,".
The emergency press conference was attended by complainant Jawad Hamid, Khurram Nawaz Gandapur, Syed Altaf Hussain Shah Gilani, Naeem-ud-Din Chuadhry Advocate, Sajid Mahmood Bhatti, Ishtiaq Chaudhry Advocate, Sardar Ghazanfar Advocate, Shakeel Mumka Advocate, Pir Syed Tahir Sajjad Zanjani, Raja Zahid, Raja Nadeem and others.
Dr Tahir-ul-Qadri said that 126 accused including IG, DIG, 7 SPs and DC Lahore have been summoned for appearance before the court, asking how come that this large group reached Model Town out of its own will. He said that if the court wanted to dig deep into the roots of the matter, it could well have asked for Justice Baqir Najfi Commission report. He said that we did make a request for production of the Justice Najfi-led Commission report, which was rejected. He said that a number of proofs that lie buried in the files can come on the judicial record on the court's order. He said that if the conscience of the rulers is clear, they should immediately release the Model Town Commission report. He said that if Rana Sanaullah is not questioned, how can one know about the identity of the masterminds of the carnage? He said that these are not the goats but the shepherd who should be brought to justice.
The PAT Chairman said that the Model Town tragedy is a legal, moral and human rights battle, which we will continue to fight till the last breath of our lives. He said that our real objective is to bring the ringleaders to justice in the form of Qisas.
In reply to a question, Dr Qadri said that election of Nawaz Sharif as the Prime Minister of this country is the biggest tragedy with the nation. He said that the Premier has more business stakes in the neighboring country. He said that Vehari police tortured our MSM workers and injured them on February 7 and had the gall to register FIR against them as was done in the case of Model Town. He asked the police officials to become servants of the people instead of becoming guards of the rulers. He said that they use them like tissue paper, throw them away and then make efforts to seek pardon. He said that none other than the Sharif brothers are responsible for the Model Town tragedy.