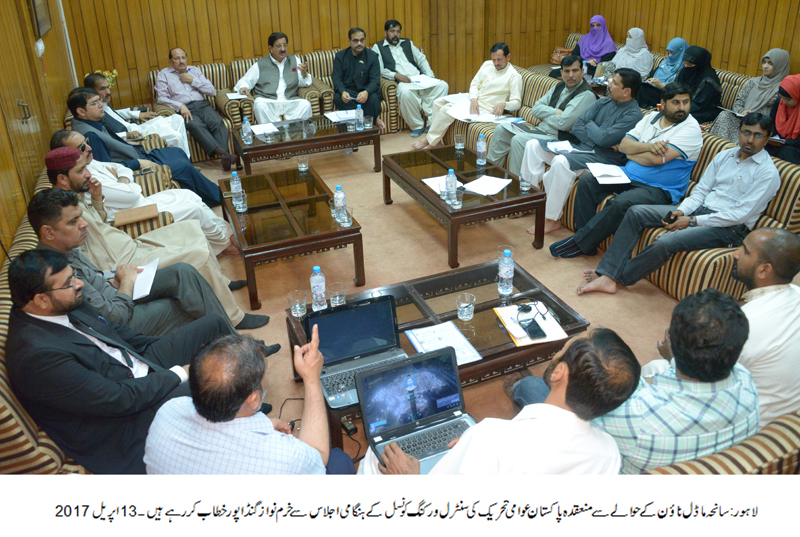 An emergency meeting of PAT Working Council was held here in which it demanded that the Model Town case should be transferred to the military court. It said that those sitting in powerful positions of the government are hampering the process of dispensation of justice. It further said that the rule and regulation under which the Uzair Baloch case was shifted to the military court, the same rule should be applied to transfer the Model Town case to the military court.
PAT Secretary General Khurram Nawaz Gandapur presided over the emergency meeting of the Central Working Council which was attended by senior leaders. Brig (r ) Iqbal Ahmad Khan, Rafique Najam, Jawad Hamid, Noorullah Siddiqui, Naeem-ud-Din Ch Advocate, Sajid Bhatti, Farah Naz, and representatives of Ulama Council and MS attended the meeting.
In media talk, Khurram Nawaz Gandapur said that those police officials who were found to be guilty in police's own investigation for firing have now been released. The meeting approved a resolution on the occasion in which it asked the government to release the report of Justice Baqir Najfi. He said that the government is influencing the whole process from registration of FIR to investigation and trial. He said that the example of nexus between police and prosecution department can be found in the release of Gullu Butt from jail.
The spokesperson of PAT, while speaking on the occasion, said that we are aware of our responsibility and imperatives of getting justice in the Model Town case. He said that when our FIR was not registered and our right to fair investigation was not recognized, we had to stage public demonstrations and now we are fighting a legal battle in the form of private complaint so that no one is able to say that we did not knock on the doors of court for justice. He however added in the same breath that we will take to roads if we did not get justice. He said neither are these roads new to us nor will oppression and torture be able to stop our way.
The spokesperson said that Dr Tahir-ul-Qadri is leading the legal fight to get justice in the Model Town case and he reviews the progress on the case on daily basis. He said that the PAT Chairman does not allow his ill health and other engagements to affect his focus on Model Town case. He said that when Dr Qadri will return to the country for justice, the roads will present the scene of raging oceans. He said that we are of the considered opinion that the military court can play an important role in dispensation of justice in the Model Town case.