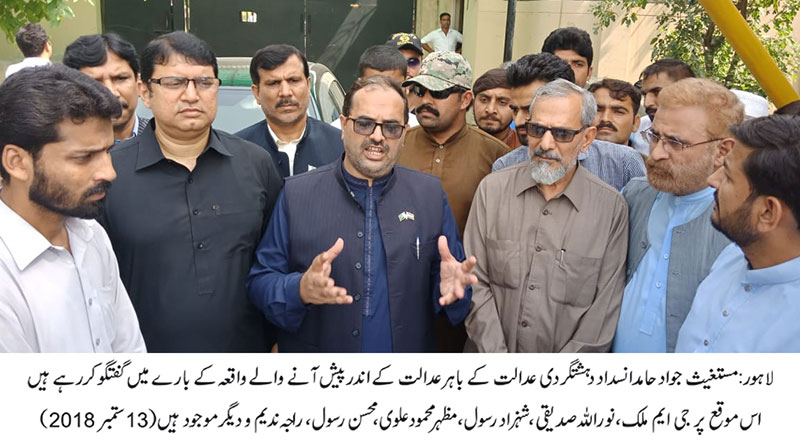 In a hearing of Model Town case in the anti-terrorism court yesterday, Nazim Awan Advocate, one of the lawyers representing the accused police officials, slapped Mohsin Rasool, an eye-witness of the tragedy and threatened of dire consequences. After the incident, complainant Jawad Hamid and the PAT lawyers submitted an application asking for an appropriate action against Nazim Awan Advocate. The judge of the ATC has been requested to revisit the incident of slapping by looking at the footage to see as to who committed an excess. It has been prayed in the application that security should be provided to the witnesses who are appearing before the court to record their statement during the cross-examination.
As soon as the news of the incident was out through media, the workers started gathering in the central secretariat and outside the antiterrorism court. A feeling of anxiety spread among the workers. Sensing the criticality of the situation, PAT Secretary General Khurram Nawaz Gandapur advised the workers to keep their calm and not take law in their hands. He said that we are the followers of a leader who has taught us to be peaceful even in the face of the worst provocation. He said that we would seek a legal redressal of the excess committed against one of our eye-witnesses.
Khurram Nawaz Gandapur strongly condemned the incident. He said that we have moved an application before the judge of the anti-terrorism court for action against the lawyer. He further said that we would also approach the Disciplinary Committee of the Lahore High Court Bar Association in this regard. He said that we would request the Chief Justices of Pakistan and LHC to take notice of the incident. He said that the witnesses are being harassed and intimidated. He said that the influential accused are influencing the proceedings of the case because they still continue to hold important positions in the government.
The PAT Secretary General said that we informed the judge of the antiterrorism of the threatening attitude of the police officials and their attorneys several times, stating that the incident of slapping an eye-witness deserves to be condemned strongly and taken not of.
PAT Secretary Information Noorullah Siddiqi, while talking to media outside the premises of the antiterrorism court, stated that the PAT lawyers and witnesses are taking part in the legal proceedings peacefully for last four years and we want justice as per the law of the land. He said that the patience of the PAT workers should not be tested anymore. He informed that the meeting of the party's Core Committee has been convened to deliberate upon the issue, stating that the PAT Chairman Dr Muhammad Tahir-ul-Qadri will address it through video-link.
انسدادِ دہشتگردی عدالت کے باہر مثتغیث جواد حامد کی میڈیا سے گفتگو
انسداد دہشتگردی عدالت میں ملزمان کے وکیل ناظم اعوان نے سانحہ ماڈل ٹاؤن کے گواہ محسن رسول کو تھپڑ مار دیا، محسن رسول کو سانحہ ماڈل ٹاؤن کے چشم دید گواہ میاں افتخار پر جرح کے دوران تھپڑ مارا گیا۔ #انصاف_نہیں_تھپڑ pic.twitter.com/8LX6t2w3nU

— PAT (@PATofficialPK) September 13, 2018