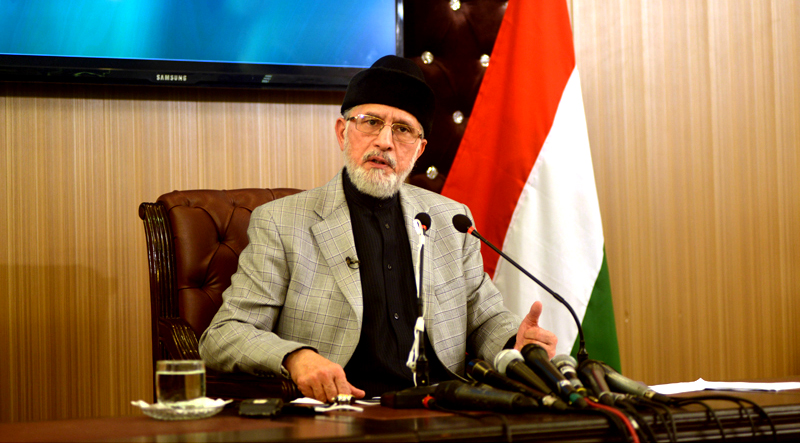 PAT Chairman Dr Muhammad Tahir-ul-Qadri has announced to challenge, in the Supreme Court of Pakistan, the Lahore High Court's decision of not summoning the Sharif brothers. He said that there are far stronger grounds for summoning the Sharif brothers than those on which the police officers were ordered to present themselves before the anti-terrorism court, and that these solid grounds are already on record.
Presiding over a meeting of the senior party leaders and the lawyers after the LHC verdict came in, the PAT Chairman expressed his complete surprise on the judgment and stated that the whole world saw the massacre in Model Town on their TV screens. He said that Shehbaz Sharif, Rana Sanaullah and Dr Toquir Shah have admitted to their relationship with and role in Model town tragedy in the form of affidavits they submitted to Justice Baqir Najafi-led Commission. He said that those not being summoned are nominated in the FIR registered on the orders of the court, adding that they were able to get the clean chit during the days of their power by forming a fake JIT consisting of their loyalists.
Dr Tahir-ul-Qadri said that it is the trial court that should determine the role of the Sharif brothers and their accomplices in the tragedy. He said that issuance of the clean chits over and above the legal process violates the spirit of fairness and justice. He said that it is not the petition of the family members of the martyrs but justice that has been rejected. He said that it is a common knowledge that law is blind but it has eyes in Pakistan that know how to discriminate between the weak and the powerful. He said that some people are more powerful than the law of the land even today. He asked as to how justice will be done when the masterminds and those who executed the plan are not summoned to answer for their role.
The PAT Chairman said that they were not ants but the citizens of the state of Pakistan who were murdered in broad day light on June 17, 2014. He added in the same breath that getting justice for the bereaved families is part of our faith. He said that we will continue to wage the legal battle till justice is administered.
According to Noorullah Siddiqi, PAT leader Dr Tahir-ul-Qadri will hold an important press conference at 2 pm on September 27 at the central secretariat in Lahore in which he will make a statement regarding the next legal course of action.