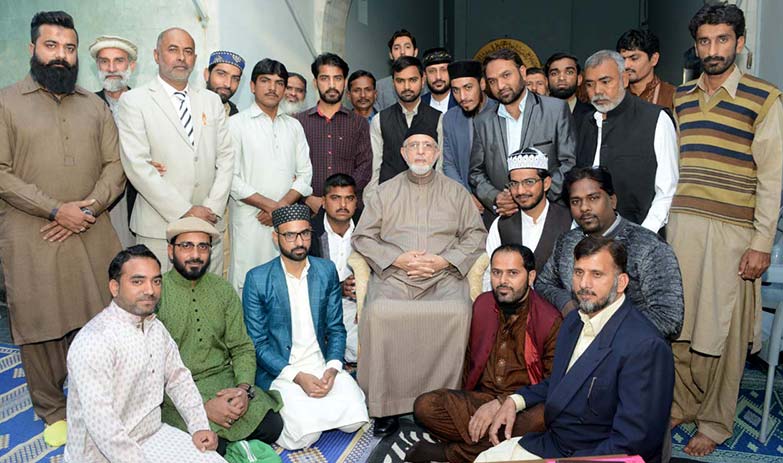 PAT Chairman Dr Muhammad Tahir-ul-Qadri has said that redressing the state oppression in the form of provision of justice is the responsibility of the state. He said that the barbarism demonstrated by the police on our innocent workers was unprovoked and one-directional and it were the Sharif brothers who engineered the whole plan, stating that 100 people were shot at and 14 of them were martyred in the broad daylight on June 17, 2014 in Lahore. He said that the formation of a new JIT is a must for re-investigation of the most unfortunate incident. He said that Bisma Amjad, the daughter of Shaheed Tanzila Amjad, submitted an application to the honorable Chief Justice of Pakistan for constitution of a new JIT and he himself went to the Lahore Registry of the Supreme Court and presented arguments. He said that he has come to know through media reports that the petition is being heard on November 19 out of human consideration.
Dr Tahir-ul-Qadri made these remarks in his meeting with the workers who were injured in the Model Town tragedy. He said that Model Town case that has international attention associated with it has not been investigated neutrally even once. He said that the Shahbaz government cracked down on the workers after the tragedy, picked them up illegally from their homes and the panic was spread in such a manner that many of them could not sleep in their homes for many weeks. The government got a JIT of its own liking constituted in the meanwhile and got the kind of report it wanted. He said that the committee consisting of the police officers was established to investigate the police brutalities, asking how justice can be delivered.
Dr Qadri said that we are of the considered view that placing the statements of the injured and the witnesses on record is very crucial for provision of justice. He said that it is only the fair investigation that will lead to fair trial. He said that we have been waging a long drawn struggle from trial court to the Supreme Court of Pakistan for summoning the principal accused of the case. He said that we moved a petition against the LHC verdict of not summoning the accused in the Supreme Court which heard the matter but did not give any new date. He said that millions of the eyes that watched the mayhem on their TV screens are the witnesses of this tragedy. He said that the oppression took place in the broad daylight, not the darkness of the night but justice has not been delivered despite passage of the four years.