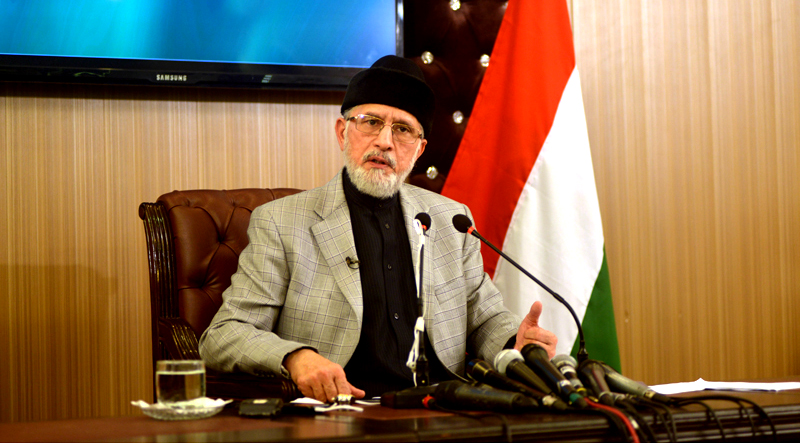 PAT leader Dr Muhammad Tahir-ul-Qadri has said that the oppressive system has made the workers who protested against the killing of 14 innocent citizens in Model Town the prisoners. He said that he is grieved on the sentences given to 107 PAT workers on the charge of vandalism. He said that the workers should not consider themselves alone, stating that we will go to the higher courts to get these sentences reversed.
A special committee consisting of the central leaders has been set up that will take care of the workers. Talking to the senior leadership through the audio link, Dr Tahir-ul-Qadri said that those brutes who perpetrated the Model Town tragedy, killed 14 people including two women in the broad daylight shot at around 100 citizens, sprayed bullets inside his residence, violated the sanctity of the home and established a record of barbarism have not been punished to date. So much so that the officers who gave orders of killings and the police officials who implemented those orders were not even subjected to the routine departmental inquiry and to the contrary, those demanding justice have been sentenced, he added.
Dr Tahir-ul-Qadri said that the workers from Mianwali, Bhakkar, Sheikhupura, Khushab, Sargodha, and DI Khan who were handed down sentences should not be disappointed all, stating that he and the MQI will continue to stand by them. He reminded that they raised a voice against oppression and it is historical fact that those who protest against oppression have always faced hard times. He said the way we are fighting legal battle to seek justice for the aggrieved families, we will also wage a similar legal struggle to get the prisoners released. He said that we have Hussaini character and will not be discouraged by the oppression and high-handedness.
Dr Qadri said that his party workers were killed and now those demanding justice are being sent to jails. He asked whether the states become prosperous with this kind of conduct. He said that the perpetrators, planners, and facilitators of Model Town tragedy will face disgrace not only in this world but also invite the wrath of Allah in the hereafter. He said that human blood will not go in vain. He said that five years have gone by but the right to the fair investigation has not been granted yet and on the other hand, the workers are being sent to jail for seeking justice.