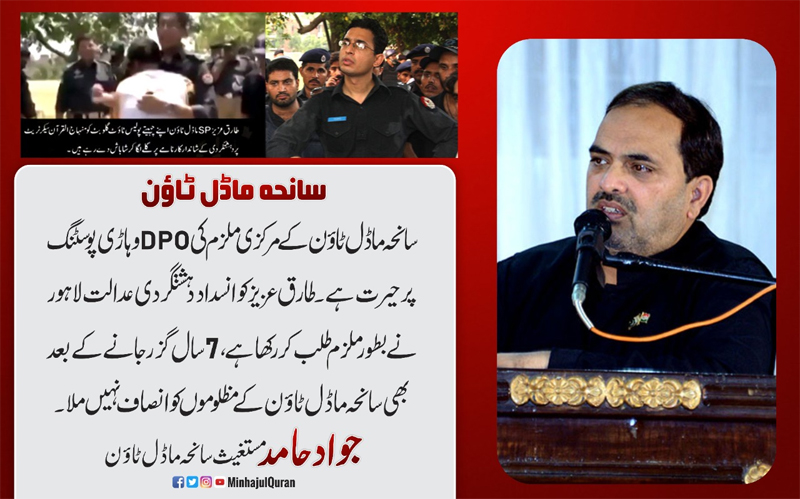 MQI leader and complainant in the Model Town tragedy case Jawwad Hamid has strongly reacted to the appointment of police officer Tariq Aziz as District Police Officer Vehari. It is important to remember that the said police officer is a central character in the Model Town case and one of the chief nominations in the FIR. He said that the killers involved in the Model Town tragedy continue to get favorite postings and promotions in this government's tenure as they were in that of the last one. He said that the anti-terrorism court has summoned Tariq Aziz as an accused, stating that no court of law has given him a clean chit yet.
Jawwad Hamid said when those accused in the high-profile cases of killings are given top positions in the police hierarchy, then the law and order situation will go from bad to worse. He said that we would bring all those characters to to justice who played any role in murdering our workers. He further said that the blood of the PAT workers is included in the formation of the government of Pakistan Tehreek-i-insaf. He said that whenever any accused gets posting or promotion, it angers us to no end, adding that Imran Khan should rather be standing with the oppressed.
Jawad Ahmad said that the PAT workers were shocked to learn about the posting of Tariq Aziz as District Police Officer Vehari because he is involved in the killing of the 14 innocent workers in Model Town. He said that the important characters and accused of the Model Town case are being accommodated in better positions during the tenure of the present government. He said that seven years have gone by but the oppressed of Model Town tragedy have not got any justice.