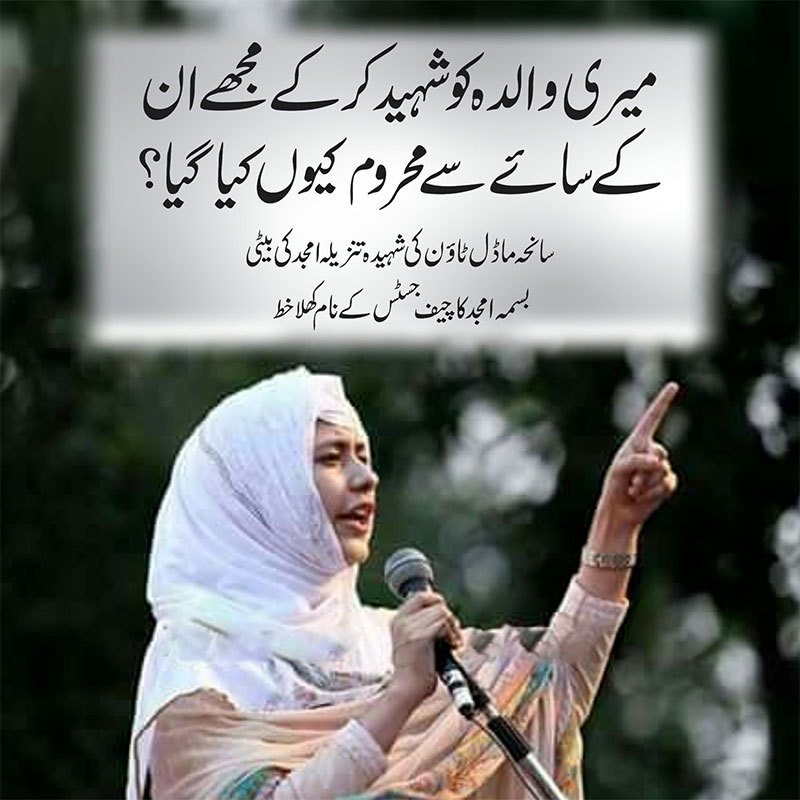 In an open letter addressed to Chief Justice of Pakistan, Bisma Amjad, daughter of Shaheed Tanzila Amjad, has said that former Chief Justice Saqib Nisar put his hand on her head with affection and asked her to fulfill the dream of her Shaheed mother while leaving the matter of justice in Model Town case to the judiciary. She said that she became hopeful about the dream of her education with this assurance. She said that since then she has been focused on education exclusively, adding that she was a student of 9th grade on June 17, 2014 but now she has done her graduation. She said that despite the passage of eight years, the dream of justice has not been realized.
Bisma Amjad said that the JIT was set up on the orders of Justice Saqib Nisar but the work of the same got suspended by a stay order of Lahore High Court. She said that more than two years have passed and the stay order remains in force. She said that the commitment of the head of the institution is in fact the commitment of the whole institution. She appealed to CJ Umer Ata Bandial to fulfill the promise of justice. She said that she should be told as to why she was deprived of the affection of her mother.
Bisma Amjad said that three years have gone by since the stay order came into force and in the meanwhile, the accused have been getting acquitted. She said that the petitions of the oppressed are not fixed for hearing while the accused are getting relief one after the other. She said that it is her appeal to CJ of Pakistan to immediately provide justice in the Model Town case. She said that the delaying tactics used by the accused party should be exposed and put an end to. She said that if he becomes the voice of the oppressed, Allah Almighty will show His mercy on him on the Day of Judgment. She said that justice delayed is justice denied.